1,680 miles of newly-added routes in Vlaams Gewest, Utah, Texas, South Carolina, South Australia, Quebec, Noord-Holland, Noord-Brabant, New York, New South Wales, Minnesota, Michigan, Maine, Kansas, Iowa, Indiana, Florida, Flanders and England.
Gravel route from Co Rd 2 to Co Rd 2, Falco, Covington County, Alabama
Gravel route on Homokbánya út, Dunakeszi
"This is my favourite route if i have about an hour after work. Mixed and technical: deep sand, singletrack, etc... only 11% paved road but it is also dirty and broken. "
Gravel route on Davis Rd, Mount Vernon, Posey County, Indiana
"Mostly rural gravel through river bottoms and small town Indiana."
Gravel route from W 100th Ave N to W 100th Ave N, Elkader, Logan County, Kansas
Gravel route from Rabbit Lake Dr to MN-6, Crosby, Crow Wing County, Minnesota
Gravel route on Chapel Ln, Hinton, South Gloucestershire, England
"Mostly off road using National cycle routes and the Fosse Way, mixture of surfaces suited to gravel bike"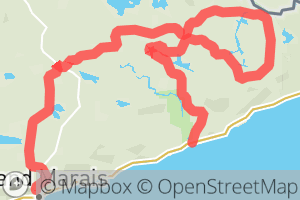 Gravel route from Rue Paul-Sauvé to Rue Paul-Sauvé, Mirabel, Laurentides, Quebec
Dirt route from Annabella St to Annabella St, Pilliga, Narrabri Shire, New South Wales
"Had just been graded when we went through, wide, clear and fast. Some narrow creek crossings and cattle grids. Watch for trucks, snakes and emus."
Dirt route from Victoria Falls Rd to Victoria Falls Rd, Blue Mountains National Park, Blue Mountains City Council, New South Wales
"Mix of sand and clay. Too narrow and busy to be much fun. Toilets at the lookout are clean."
Dirt route from Cantara Rd to Cantara Rd, Laffer, District Council of Tatiara, South Australia
"Good hard dirt track from the Coorong heading towards Keith. I had no trouble travelling at 100kph, apart from a couple of low dry causeways that can be seen from a good distance. Watch for cattle, rabbits, kangaroos and deer."
Gravel route from Lock Hart Rd to S Main St, Moab, Grand County, Utah
Gravel route from Greenwich Rd to Post Rd, Bedford, Westchester County, New York
Gravel route from Main St to Riverside Rd, Story City, Hamilton County, Iowa
Gravel route from Riverside Rd to Main St, Lehigh, Webster County, Iowa
Gravel route from Bell's Mill Rd to Main St, Lehigh, Webster County, Iowa
Gravel route on Monroe Canyon Rd, Monroe, Sevier County, Utah